Thank you to everyone who supported The Party 2021!
We greatly mourn the loss of one of the members of our Woodmere family, Jerry Pinkney. Jerry was an incredible artist, a wonderful friend, and one of the kindest individuals we have ever had the pleasure of working with. He will be greatly missed. Thank you for making his celebration at our Party so special.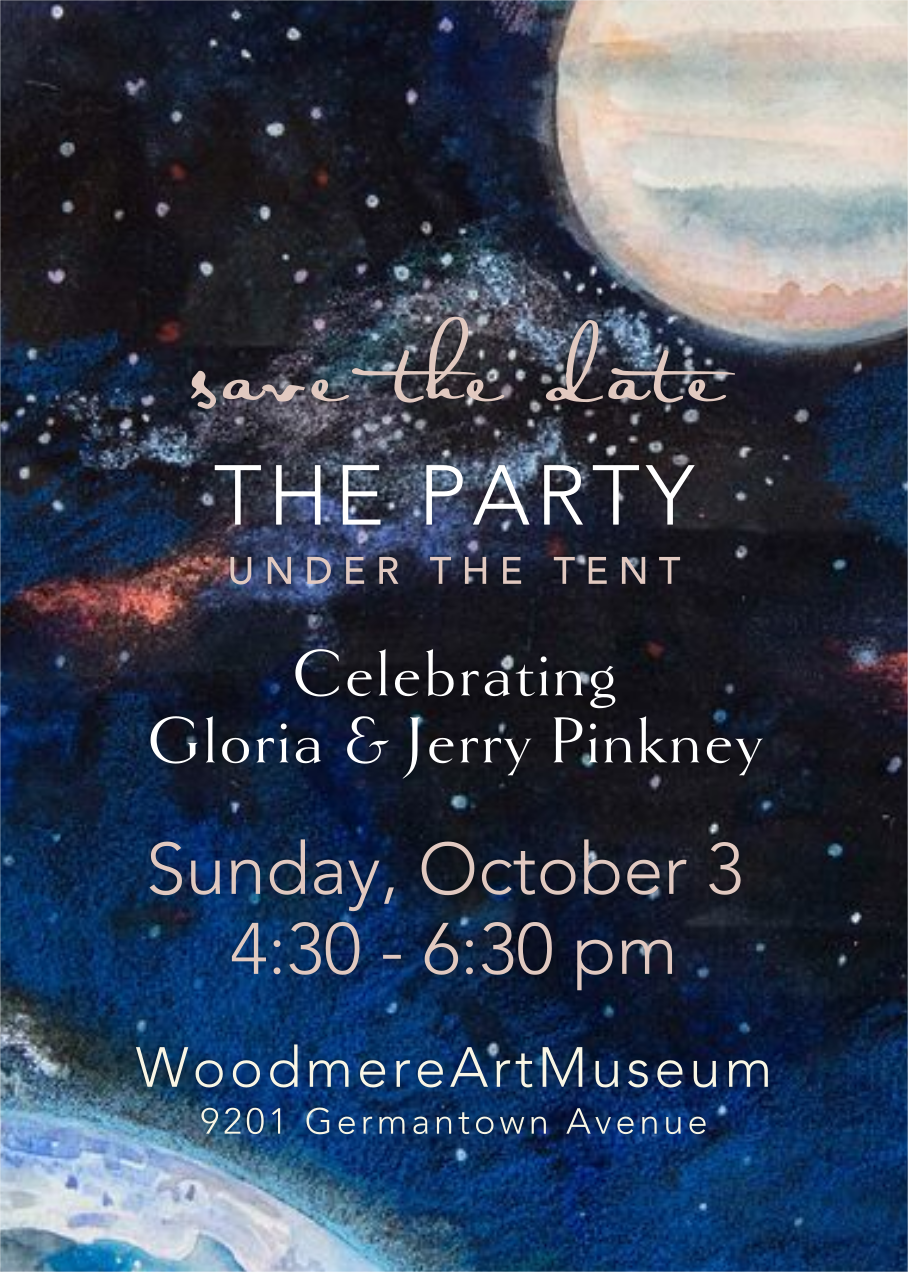 The Party 2021 Event Sponsors
Platinum
Julie & James Alexandre
Amy Branch & Jeff Benoliel
Russell Harris, MD
Margaret Steele
Gold
Cindy & John Affleck
Mick Byers
Elie-Anne Chevrier & J. Rudy Lewis
Kerri & Ryan Farragut
Barbara & Larry Finkelstein
Irma & Chris Fralic
Natalie & Ralph Hirshorn
Sarah & Ted Lodge
Maguire Foundation
Margaret Sadler
Joly W. Stewart
Dr. William Wolgin
Silver
Margery P. Lee
Bronze
Moses & Susan Feldman
Glenmede
McCausland Foundation | Bonnie & Peter McCausland
Patron
Gretchen Ingersoll
Barbara Eberlein & Jerry Wind
Carolyn Adams & John Meigs
Dennis Alter
Patricia G. Beck
Deanna & Jordan Berman
Marty Brady & Bruce Belzak
Susan Higley Bray, MD
Mr. & Mrs. Robert Bryan
Bill & Laura Buck
Gretchen Carey
Maude de Schauensee
Molly & Jonathan Deutsch
Alexandra Edsall & Robert Victor
Nancy & Mike Evans
Wendy & Walter Foulke
Katy & Jason Friedland
Vivian & William Gast
Elizabth H. Gemmill
Penelope P. Harris
The Hill at Whitemarsh
Lynn Hitschler
Marguerite Lenfest
Sueyun Locks
Angela & William Lutz, Jr.
Dan Macey & Paul Savidge
Debbie Maine
George H. McNeely
Leslie Miller & Richard Worely Foundation
Peter Paone & Alma Alabilikian
Nicole & George Riter
Richard Snowden & Fred Holzerman
Ethel Benson Wister