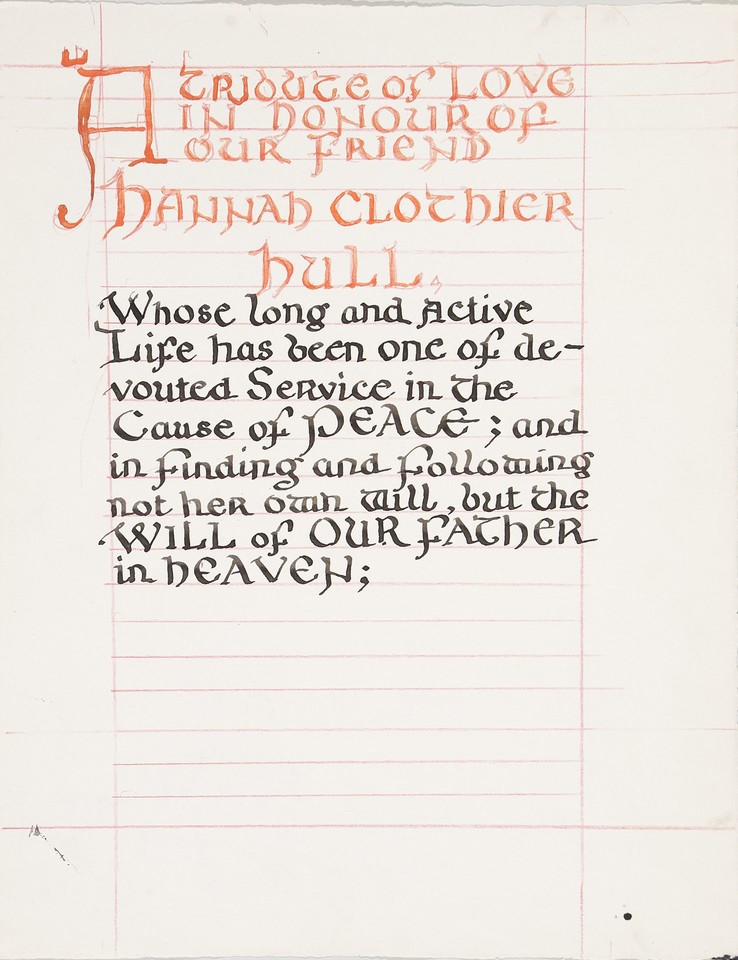 Illuminated text study for "A Tribute of Love in Honour of our Friend, Hannah Clothier Hull"
Medium
Red and black ink on paper with guidelines in red pencil
Credit Line
Gift of the Pennsylvania Academy of Fine Arts, 2015
Dimensions
10 1/2 x 8 1/4 in.
Description & Inscriptions
[verso in graphite]: wife of Prof. Hull / of / Swarthmore / & dghtr. Of / Issac [sic] Clothier
Hannah Clothier Hull (1872–1958) epitomized a life commitment to world peace that Oakley valued and commemorated in her art and writings. Born to a prominent Quaker family, Hull attended the Second Hague Conference for International Peace in 1907 at the age of thirty-five. Eight years later, she cofounded the Woman's Peace Party, an American pacifist and feminist organization. By year's end, Hull also helped establish the International Committee of Women for Permanent Peace, which later changed its name to the Women's International League for Peace and Freedom. She was an officer of its American branch from 1924 until 1939, and then served as honorary president until her death.

Hannah Clothier was born in Wynnewood, Pennsylvania, to Isaac Hallowell Clothier and Mary Clapp Jackson Clothier. Her father was cofounder of the Strawbridge & Clothier department stores, which opened its flagship store in Philadelphia in 1868. After graduating from Swarthmore College in 1891, she volunteered at a Philadelphia settlement house and then entered the graduate program in social work at Bryn Mawr College. In 1892, she married William Isaac Hull, a fellow pacifist and professor of political science at Swarthmore.

In addition to world peace, Hull campaigned for women's suffrage and women's rights. She returned to The Hague in 1922 to attend the International Conference of Women. She was also president of the Swarthmore Woman's Club and served on the boards of the American Friends Service Committee and Pendle Hill, a Quaker retreat center.
Share: