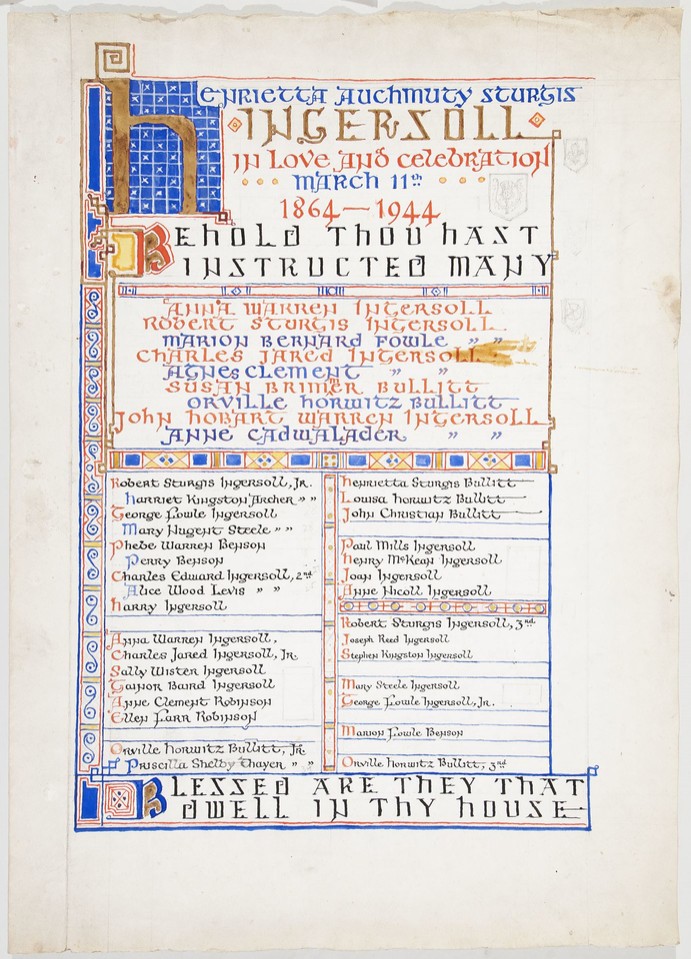 Illuminated text study for recording of descendants of Henrietta Auchmuty Sturgis Ingersoll (1864-1944)
Medium
Black ink, watercolor, gold leaf and graphite on paper
Credit Line
Gift of the Pennsylvania Academy of Fine Arts, 2015
Dimensions
22 x 15 3/4 in.
Description & Inscriptions
[verso in graphite]: Geneologies [sic]
Henrietta Auchmuty Sturgis married Charles Edward Ingersoll on December 23, 1886. Charles (1860–1932) was a prominent Philadelphia lawyer and banking and railroad executive.

At the time of her death, Henrietta was survived by five children, including R. (Robert) Sturgis Ingersoll (1891–1973), who served as president of the Philadelphia Museum of Art for nearly two decades, as well as chairman of the museum's Board of Governors. Her son Harry, whose name Oakley did not include, died in 1918.
Share: