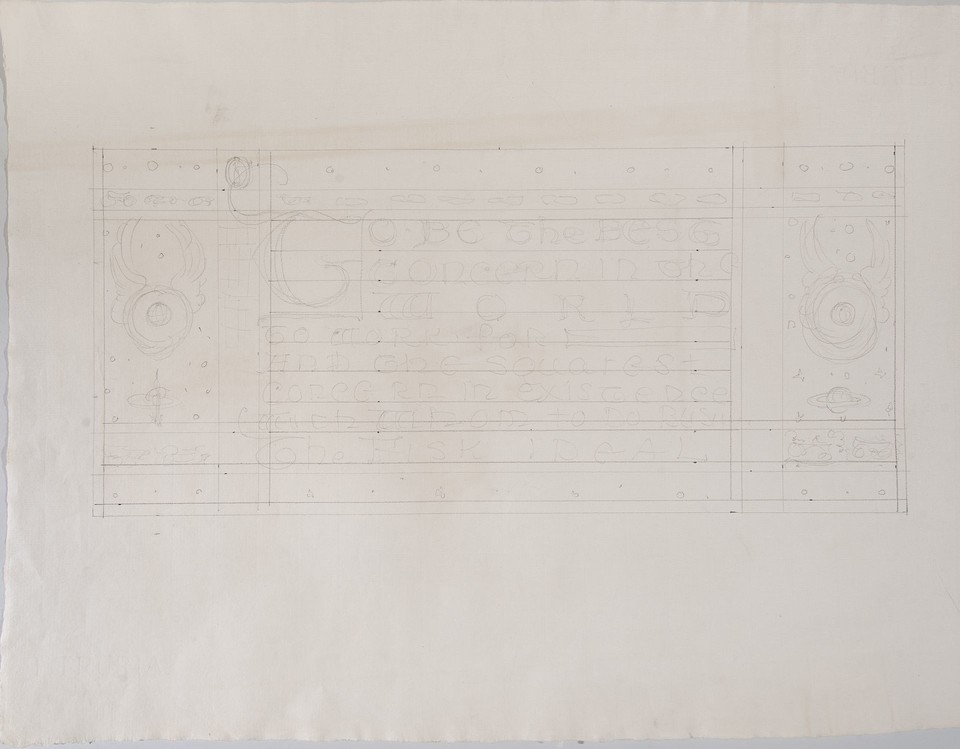 Illuminated text study for the Fisk Ideal
Credit Line
Gift of the Pennsylvania Academy of Fine Arts, 2015
Dimensions
18 x 24 1/4 in.
Description & Inscriptions
[in graphite]: To be the best / concern in the / world / to work for / And the squarest / concern in existence / with whom to do busi[ness] / The Fisk Ideal
The text that Oakley flanks with celestial imagery appeared nearly verbatim in ads for Fisk Truck Tires. From the 1910s to early 1930s, the Fisk Tire Company was a leader in the US tire industry, with plants in three states and stores in forty.

That Oakley would have considered a commission from a tire company may not be so far-fetched. Soon after World War I, Earnest Elmo Calkins (1868–1964), a turn-of-the-century adman, struck upon an idea to beautify commercial cityscapes by having mural artists create advertising billboards and posters. Such was the motivation, according to Calkin, for Maxfield Parrish to design a billboard for Fisk Tire Company, which in turn (again according to Calkin) moved a woman "to erect a [Parrish] billboard on her beautiful estate near Los Angeles for the purpose of showing it (and it alone)." Oakley was among the "prominent civic artists" Calkin hoped would embrace the project.
Share: