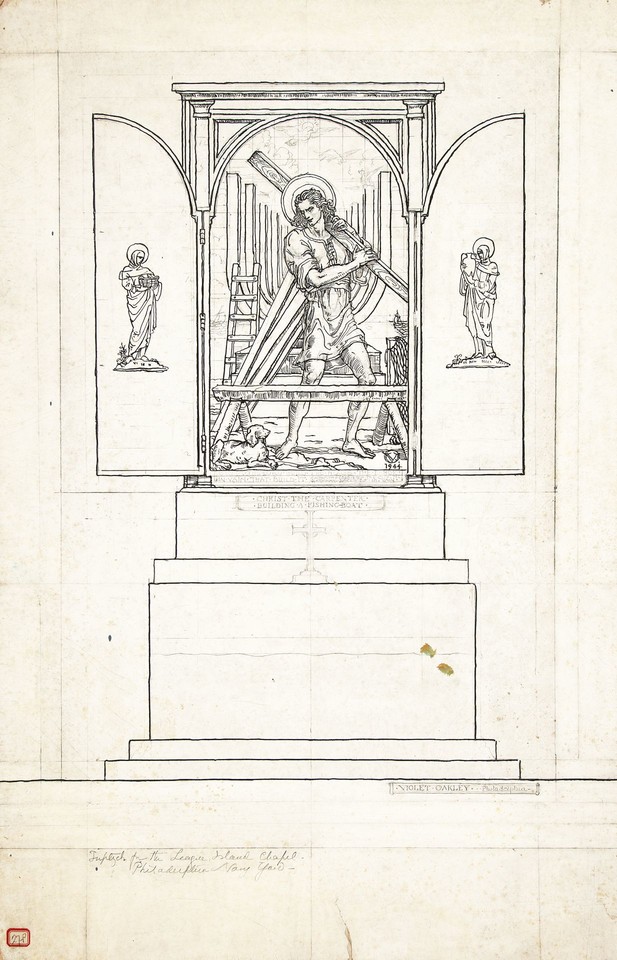 Composition study for "Christ the Carpenter" World War II portable altarpiece, for Philadelphia Naval Base Chapel
Medium
Pen and ink and graphite on poster board
Credit Line
Gift of the Pennsylvania Academy of Fine Arts, 2015
Dimensions
22 1/8 x 14 in.
Description & Inscriptions
[beneath center panel in graphite]: [Passages from Psalm 127, and]: Except The Lord Build The House They Labor / In Vain That Build It [indecipherable]; [on the plinth supporting the center panel in graphite]: Christ The Carpenter / Building A Fishing Boat; [within center panel, bottom right in ink]: Monogram initials / 1944; [below the altar at right, in graphite]: Violet Oakley, Philadelphia; [bottom left in graphite]: Triptych for the League Island Chapel / Philadelphia Navy Yard; [verso in graphite]: Return to / Violet Oakley / St. George's Road / Philadelphia 19-
One of Oakley's most impressive altarpieces was the monumental Christ the Carpenter for the Philadelphia Naval Yard Chapel, which portrays Jesus as a strong young man in a tunic building the hull of a ship. Beneath the workbench, his pet dog watches as he bears lumber onto his shoulder in a pose that foreshadows the carrying of the cross.
Share: