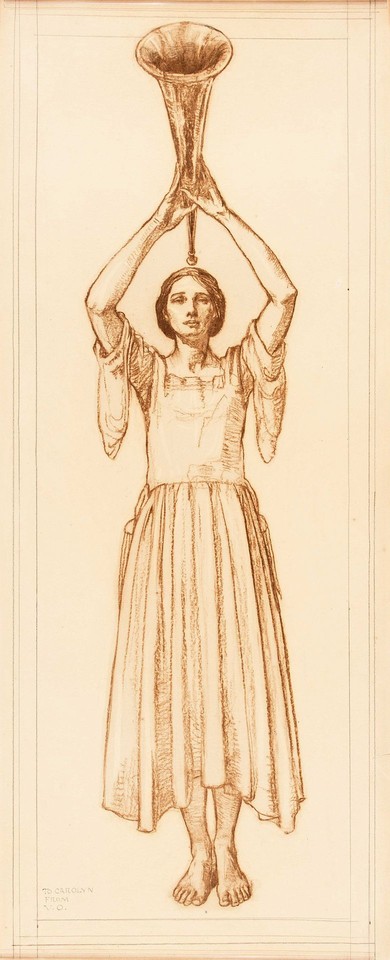 Trumpeter [Carolyn Haywood model] (possibly a study for "The Great Wonder: A Vision of the Apocalypse," Vassar College Alumnae House and possibly a study for "The Seventh Seal" Christmas card
Medium
Brown conté on buff paper
Credit Line
Gift of the Estate of Carolyn Haywood, 1990
Dimensions
29 1/4 x 11 1/2 in.
Description & Inscriptions
[bottom left]: To Carolyn / from / V.O.
The building of the Vassar College Alumnae House in 1921 presented Violet Oakley with an opportunity to create a memorial to her sister Hester Caldwell Oakley (1871–1905), who had graduated from the college in 1891. A novelist, wife, and mother, Hester lost her two-year-old daughter to illness and died three years later at age thirty-four in an epidemic in New York. To commemorate her sister's life, Oakley chose a religious subject historically associated with powerful women. "The Great Wonder: A Vision of the Apocalypse" is a large triptych in the style of the early Renaissance, narrating the Book of Revelation. Depicted at the bottom of the left panel are "The Seven Angels" (Rev. 8.6). It is possible this work is a study for "The Seven Angels." Oakley's friend Carolyn Haywood was the model.
Share: