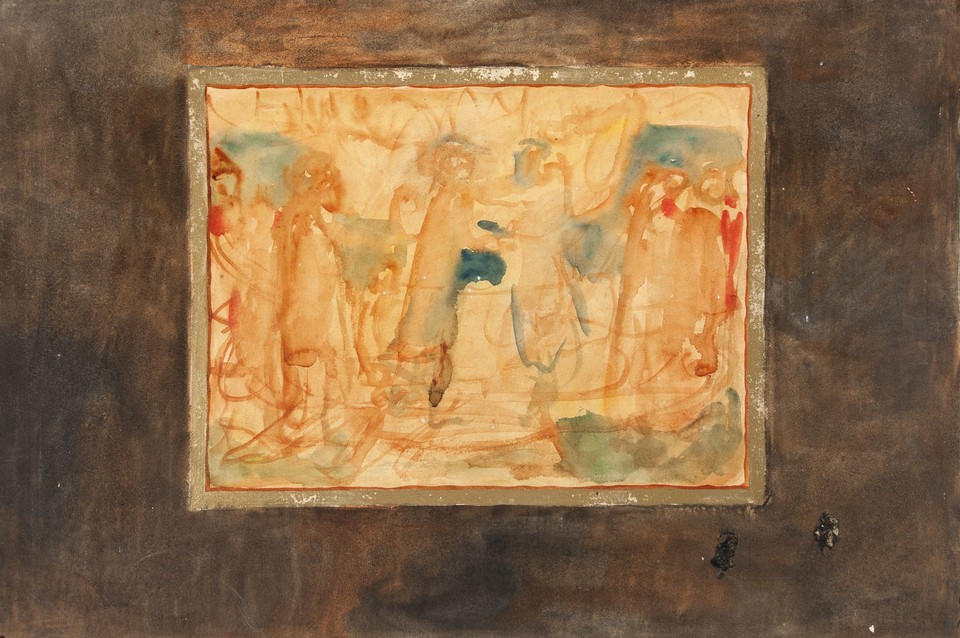 Sketch for "Penn's Vision," Panel 11, from the mural series The Founding of the State of Liberty Spiritual, Governor's Reception Room Pennsylvania State Capitol
Medium
Watercolor and gold paint on board
Credit Line
Gift of the Pennsylvania Academy of Fine Arts, 2015
Dimensions
14 3/8 x 21 1/4 in.
Description & Inscriptions
[verso upper left in ink]: XVI. Penn's arrival in Philadelphia; [verso upper right in ink]: Violet Oakley / The Red Rose / Villa Nova / Pennsylvania, U.S.A.
William Penn was Quaker, but he did not found Pennsylvania for Quakers. His vision was that of a state in which any person could practice according to the dictates of their own beliefs. In Oakley's mural "Penn's Vision," Penn leads an exodus of persecuted people to a fleet of ships that will take them away from England and to a haven in the New World. Pennsylvania would be a state of diverse faiths because Penn established laws forbidding the disruption of peaceful religious practices. For Oakley, this was Pennsylvania's intellectual contribution to the United States' Bill of Rights. A sunrise and sketchy depiction of leaping dolphins bode well for the journey to Pennsylvania.
Share: