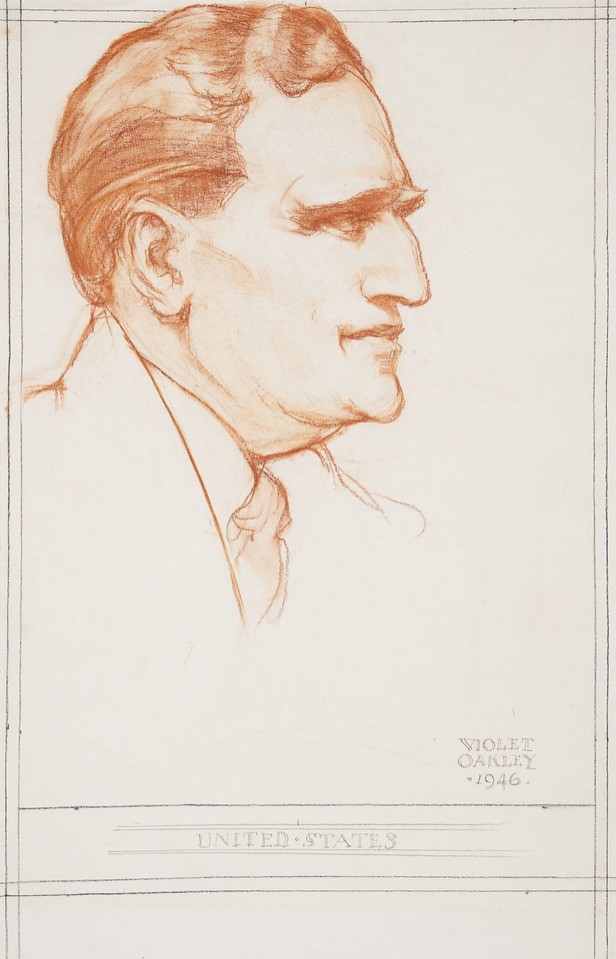 Herschel Vespasian Johnson, United States Deputy Representative to the United Nations
Medium
Sanguine on paper with framing lines in black pastel
Credit Line
Gift of the Pennsylvania Academy of the Fine Arts, 2015
Dimensions
20 3/8 x 13 in.
Description & Inscriptions
[lower right in graphite]: Violet / Oakley / 1946; [bottom center between guidelines, all in graphite]: United States
Johnson was a US foreign service officer from 1921 to 1953, serving as Envoy Extraordinary and Minister Plenipotentiary to Sweden from 1941 to 1946, and Ambassador Extraordinary and Plenipotentiary to Brazil from 1948 to 1953. Between these posts, from 1946 to 1947, he served as acting US Ambassador to the UN, where he was a vocal proponent of the 1947 Palestine Partition Plan. The outcome of the UN vote is attributed to his collaboration with Andrei A. Gromyko; usually political opponents, they stood together on this issue, urging the General Assembly to vote for partition at once, and opposing last-minute efforts of Arab delegations to effect a compromise.
Share: