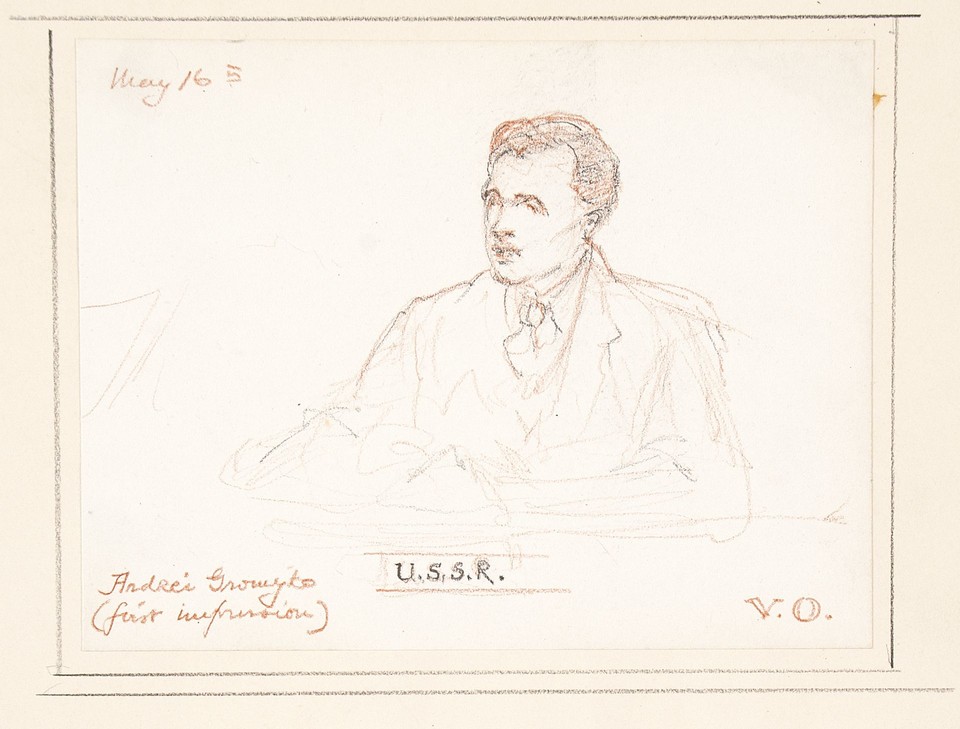 Portrait study of Andrei A. Gromyko, delegate from the U.S.S.R. to the United Nations
Medium
Graphite and sanguine on paper mounted on board with framing lines in graphite
Credit Line
Gift of the Pennsylvania Academy of the Fine Arts, 2015
Dimensions
4 7/8 x 6 5/8 in.
Description & Inscriptions
[top left of drawing in sanguine]: May 16th; [bottom left of drawing in sanguine]: Andrei Gromyko / (first impression); [bottom center of drawing in graphite between guidelines in sanguine]: U.S.S.R.; [bottom right of drawing in sanguine]: V.O.
In 1946 Oakley observed, "Through my opera glass at the meetings of the Security Council, I studied long and carefully the Representative from Russia, whenever he was present, which was not always however! I could see no variation of expression and could but wonder what this unchanging countenance was guarding from me. Whenever he spoke, leaning forward, with eagerness and pouring forth a musical river of Russian words, his strong, broad face became very flexible, yet with still no change of expression that I could detect."

Originally a research associate at the Soviet Academy of Sciences, Gromyko was appointed ambassador to the United States in 1943. In 1944, he helped conceive the United Nations at the Dumbarton Oaks Conference in Washington, DC. He successfully argued that the major nations should have veto power, and after he became the first Soviet permanent representative in 1946, he used it—twenty-five times before he left the post, in July 1948.

Gromyko served as ambassador to Britain from 1952 to 1953. He became foreign minister in 1957, and would hold that post for twenty-eight years, during which he was the main Soviet negotiator with the United States and a principal architect of Soviet policy. He was president of the Soviet Union from 1985 to 1988.
Share: