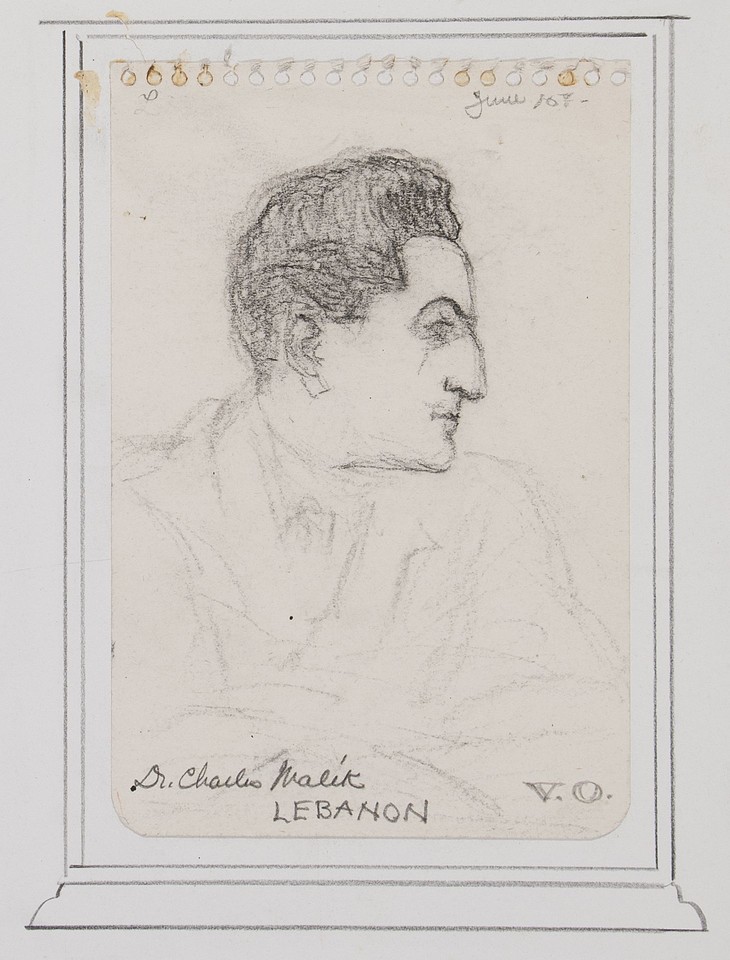 Portrait study of Charles Malik, representative of Lebanon to the United Nations
Medium
Graphite on paper mounted on cream paper with framing lines in graphite
Credit Line
Gift of the Pennsylvania Academy of the Fine Arts, 2015
Description & Inscriptions
[top right of drawing in graphite]: June 10th; [lower left in graphite]: Dr. Charles Malik; [lower right in graphite]: V.O.; [bottom center in graphite]: Lebanon; [verso in graphite]: "The nose is like the [illegible] of Lebanon / that looketh toward Damascus / [Said on the road to Damascus] / [Damascus is the [illegible] / [illegible] France?]
In 1946 Oakley wrote, "Perhaps the most striking figure at the Economic Social Council was that of the Representative from Lebanon. He speaks with a deep, rich voice in excellent English, stressing always the international implications of every decision. His massive head, front brow from which his thick black hair rises with a sort of astonishment, vivifies the picture of the gathering of the Nations. He referred to 'the critical central region' of his own country of Lebanon. One is impressed that wherever he is, indeed, is a center!"

Author of numerous articles on scientific, social, and philosophical topics for American and Arabic journals, Charles Malik attended the UN's San Francisco Conference in 1945, was Lebanon's representative on the UN Economic and Social Council from its second to its eighth sessions, and was president of the Council for its sixth and seventh sessions. A leading force in the organization, he is perhaps best known for his role as chairman of the General Assembly's Social and Humanitarian Committee during the drafting and adoption of the Universal Declaration of Human Rights in 1948. He served as Ambassador to the US in 1953–55 and became Lebanon's Minister of Foreign Affairs and National Education in 1956–58.
Share: