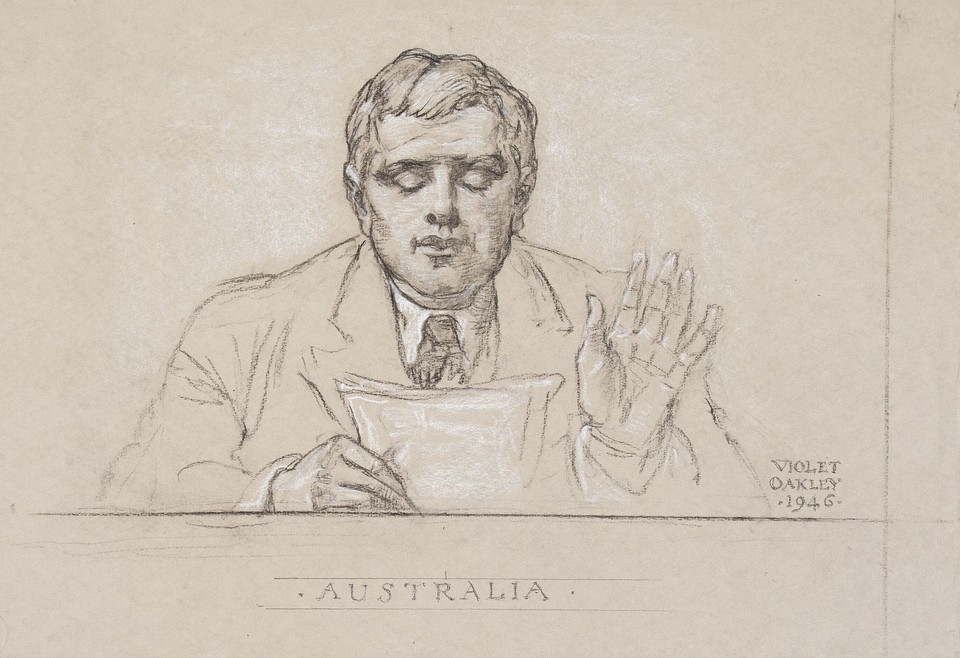 Portrait study of Dr. Herbert Vere Evatt, head of the Australian delegation to the United Nations [General Assembly]
Medium
Black and white pastel on gray paper with framing lines in black pastel
Credit Line
Gift of the Pennsylvania Academy of the Fine Arts, 2015
Dimensions
12 1/2 x 18 1/4 in.
Description & Inscriptions
[lower right in black pastel]: Violet / Oakley / 1946; [bottom center between guidelines in black pastel]: Australia
Dr. Evatt was a jurist, judge, lawyer, politician, parliamentarian, and writer who held posts as Deputy Prime Minister, Attorney-General, and Minister for External Affairs of Australia. He played a prominent role at the UN's San Francisco Conference of 1945 and subsequently headed Australian delegations to the General Assembly and served on the UN's Preparatory Commission, Security Council, Atomic Energy Commission, and Commission for Conventional Armaments. Evatt also represented his country in the Pacific Council, the British War Cabinet, the Council of Foreign Ministers, the Paris Peace Conference, the British Commonwealth Prime Ministers' Conference, and the Far Eastern Commission. In 1947 he was president of the South Pacific Regional Conference.
Share: