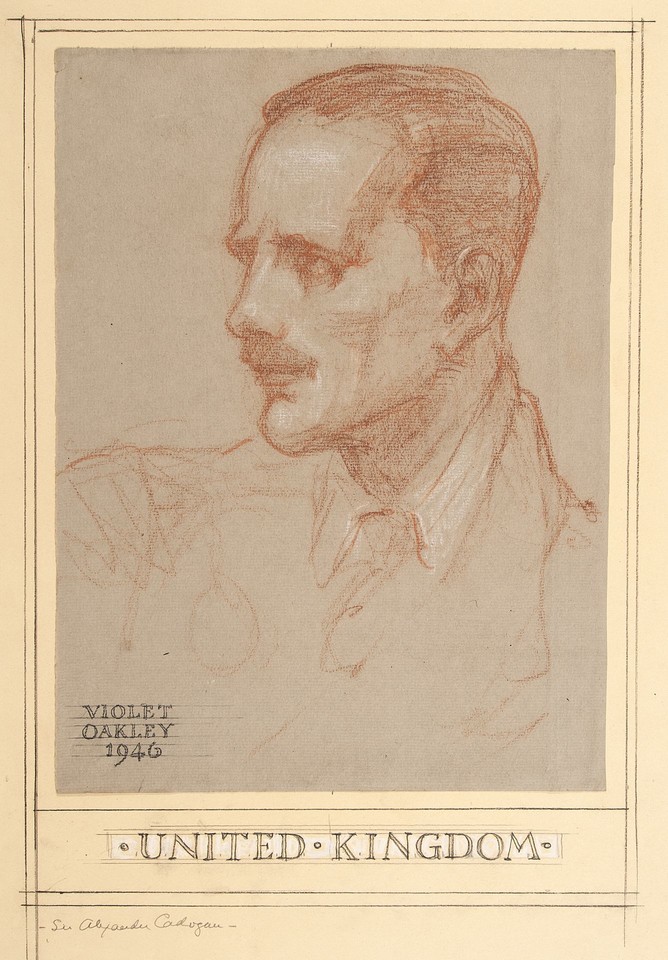 Sir Alexander Cadogan (1884–1968), delegate from the United Kingdom to the United Nations
Medium
Sanguine and white pastel on gray paper on light orange paper with framing lines in black pastel and graphite
Credit Line
Gift of the Pennsylvania Academy of the Fine Arts, 2015
Dimensions
20 5/8 x 15 in.
Description & Inscriptions
[bottom left corner of gray paper in black pastel]: Violet / Oakley / 1946; [centered, below gray paper in black and white pastel]: United Kingdom; [below framing line of light orange paper in graphite]: Sir Alexander Cadogan
Oakley wrote in 1946, "The distinguished representative of the United Kingdom is an experienced career diplomat and statesman. Freed to serve on the Security Council of the United Nations from his position as Secretary of the New Labor Government of Great Britain, his deep consideration for others at the Council together with his presence and decisiveness on all points under discussion are beautiful to watch.

With Sir Alexander Cadogan it was good to speak of that other great Englishman, William Penn. Both he and Dr. Quo of China agreed with me that it would have been most suitable had the new City of the United Nations come to Pennsylvania — to grow and develop on the soil of Penn's Holy Experiment."
A central figure in British policy before and during World War II, Sir Cadogan served in Britain's diplomatic service from 1908 to 1950. He was Permanent Under-Secretary for Foreign Affairs from 1938 to 1946, representative to the UN's Dumbarton Oaks Conference in 1944, representative to the UN from 1946 to 1950, a member of the Privy Council beginning in 1946, and chairman of the Board of Governors of the BBC from 1952 to 1957.
Share: