A More Perfect Union? Power, Sex, and Race in the Representation of Couples
02/04/2017
05/21/2017
Open house: Saturday, February 11 | 4:00-6:00 p.m.
A More Perfect Union? Power, Sex and Race in the Representation of Couples illuminates ways in which artists of different generations have explored the meaning of marriage, the nature of human relationships, sexuality, and public versus private expressions of love. Issues raised by the exhibition include the representation of the roles of women and men, social class, race, and same-sex marriage. Artists represented range from early American painters such as Robert Street (1796–1865) and Charles Willson Peale (1741–1827) to contemporary figures like Bill Walton (1931–2010) , Jonathan Lyndon Chase (born 1989), Sarah McEneaney (born 1955), and Alex Kanevsky (born 1963).
Artists showing in the exhibitions:
Constantin Alajálov | Roger Anliker | Kassem Amoudi | Roland Ayers | Bo Bartlett | Cecilia Beaux | Frank Bramblett | Barbara Bullock | Donald E. Camp | Jonathan Lyndon Chase | Sebastian Collett | Bruce Cratsley | James Cremer | Almitra Marino David | Larry Day | Giuseppe Donato | Jessie Drew-Bear | Kaitlyn Dunphy | Edith Emerson | Martha Mayer Erlebacher | Walter Erlebacher | Emlen Pope Etting | John Falter | William Newport Goodell | Eileen Goodman | Richard Guggenheim | Thomas Hovenden | Frederick James| Gilbert Lewis | Arlene Love | Samuel Maitin | Gabriel Martinez | Sarah McEneaney | Mitzi Melnicoff | Anne Minich | John W. Mosley | Edith Neff | Violet Oakley | Peter Paone | Charles Willson Peale | Irving Penn | Salvatore Pinto | Norman Rockwell | Peter Frederick Rothermel | Laurence Salzmann | Dick Sargent | Suzanne Schireson | Sterling Shaw | Christopher Smith | Nora Speyer | Benton Spruance | Robert Street | James Stidun | Thomas Sully | Lucia Thomé | Mickayel Thurin | Ellen Powell Tiberino | Rochelle Toner | Bill Walton | Franklin Watkins
The Wedding Cake: A Perfect Union of Sugar and Art
February 9–16
Closing reception:
Thursday, February 16

,

6:00–8:00 p.m.
Gallery Talk: Thursday, February 16, 6:30 p.m.
This special one-week exhibition of wedding cakes created by leading Philadelphia cake artists and bakeries is inspired by A More Perfect Union? Power, Sex, and Race in the Representation of Couples. Co-curated by Noelle DeSantis, owner of Ella Vanilla, a cake decorating supply shop in Chestnut Hill, the exhibition explores the concept of the wedding cake as a three-dimensional "edible artwork," and its power to convey the personalities and interests of thewedding couple.
Banner: Bedroom Two, 1985, by Sarah McEneaney (Courtesy of the artist and Tibor de Nagy Gallery, New York )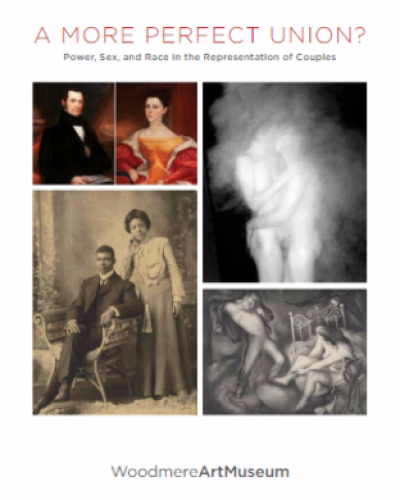 This exhibition explores how artists imagine gender, race, class, sexuality, and orientation in depictions of marriage and human relationships.
Upcoming Events
03/25/17
3:00 pm
Participants: Hon. Daniel J. Anders, Hon. Ann Butchart, Hon. Mary Colins
View More
04/22/17
3:00 pm
Lecturer: Tobias Barrington Wolff, Professor of Law at the University of Pennsylvania Law School
View More
In the News
Press Releases
A More Perfect Union? Power, Sex, and Race in the Representation of Couples
01/23/2017