A More Perfect Union? Power, Sex, and Race in the Representation of Couples
02/04/2017
05/21/2017
Open house: Saturday, February 11 | 4:00-6:00 p.m.
A More Perfect Union? Power, Sex and Race in the Representation of Couples illuminates ways in which artists of different generations have explored the meaning of marriage, the nature of human relationships, sexuality, and public versus private expressions of love. Issues raised by the exhibition include the representation of the roles of women and men, social class, race, and same-sex marriage. Artists represented range from early American painters such as Robert Street (1796-1865) and Charles Willson Peale (1741-1827) to contemporary figures like Bill Walton (1931-2010) , Jonathan Lyndon Chase (born 1989), Sarah McEneaney (born 1955), and Alex Kanevsky (born 1963).
Artists showing in the exhibitions:
Constantin Alaj?lov | Roger Anliker | Kassem Amoudi | Roland Ayers | Bo Bartlett | Cecilia Beaux | Frank Bramblett | Barbara Bullock | Donald E. Camp | Jonathan Lyndon Chase | Sebastian Collett | Bruce Cratsley | James Cremer | Almitra Marino David | Larry Day | Giuseppe Donato | Jessie Drew-Bear | Kaitlyn Dunphy | Edith Emerson | Martha Mayer Erlebacher | Walter Erlebacher | Emlen Pope Etting | John Falter | William Newport Goodell | Eileen Goodman | Richard Guggenheim | Thomas Hovenden | Frederick James| Gilbert Lewis | Arlene Love | Samuel Maitin | Gabriel Martinez | Sarah McEneaney | Mitzi Melnicoff | Anne Minich | John W. Mosley | Edith Neff | Violet Oakley | Peter Paone | Charles Willson Peale | Irving Penn | Salvatore Pinto | Norman Rockwell | Peter Frederick Rothermel | Laurence Salzmann | Dick Sargent | Suzanne Schireson | Sterling Shaw | Christopher Smith | Nora Speyer | Benton Spruance | Robert Street | James Stidun | Thomas Sully | Lucia Thom? | Mickayel Thurin | Ellen Powell Tiberino | Rochelle Toner | Bill Walton | Franklin Watkins
Portraits: Duets for A More Perfect Union?
May 20th, 6:00 p.m
Non-members: $22 Members: $12
Portraits is a series of duets created for the Woodmere Art Museum performed in conjunction with the exhibit A More Perfect Union? Sex, Power, and Race in the Representation of Couples. Inspired by select works in the exhibit, Portraits integrates the architecture of the space and the body to activate the images. The performance creates a textured layering of couples' multiple viewpoints and speaks to the complexities, passion, tension, vulnerabilities and strength of human connections. This work gives audience members an intimate look at couples while breaking expectations of race, gender and orientation using movement, sound and text.
Banner: Bedroom Two, 1985, by Sarah McEneaney (Courtesy of the artist and Tibor de Nagy Gallery, New York )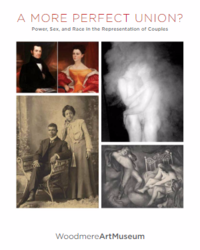 This exhibition explores how artists imagine gender, race, class, sexuality, and orientation in depictions of marriage and human relationships.
Upcoming Events
In the News
Press Releases
A More Perfect Union? Power, Sex, and Race in the Representation of Couples
01/23/2017
FLEXI_MULTIPLE flexi_or flexi_na