Arthur B. Carles and His Expanding Circle: An Exhibition in Honor of Frances M. Maguire
08/20/2016
03/19/2017
Open house: Saturday, November 12, 2:00-4:00 p.m.
Arthur B. Carles and His Expanding Circle tells the story of Arthur B. Carles (1882-1952) and his influence on the development of modernism and abstract painting in Philadelphia. Best known for his daring use of color and the verve of his personality, Carles was an influential instructor at the Pennsylvania Academy of the Fine Arts (PAFA) who embraced the modern age and introduced his students to the work and ideas of the European avant-garde. This exhibition offers a rich account of Carles and the generations of artists inspired by him--distinguished students of his circle who became leading modernist voices in Philadelphia, such as Quita Brodhead, and Jane Piper. We will also focus on the artists of the next generation they inspired, including Jan Baltzell and Bill Scott. These artists, in turn, continue to serve as mentors to the emerging abstract painters of today.
The exhibition is offered as a tribute to Woodmere's longtime trustee, Frances M. Maguire, a painter and sculptor who works in the tradition of the Carles legacy and continues to be one of the great champions of the arts of our city.
Banner: Abstract Bouquet, 1939, by Arthur B. Carles (Woodmere Art Museum: Partial museum purchase and partial gift of Frederica and Howard Wagman, 2011)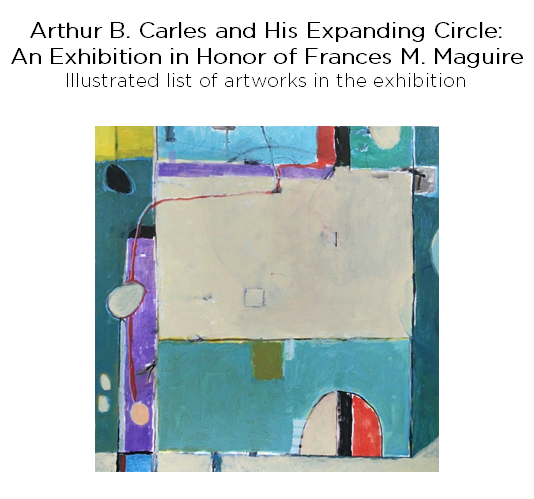 Upcoming Events
In the News
The Generations Entwined: the modernist legacy of Arthur B. Carles
09/08/2016
Vin de Vie Wine of Life