The Woodmere Annual: 80th Juried Exhibition
06/04/2022
08/28/2022
About the Exhibition
The Woodmere Annual: 80th Juried Exhibition
Migration is the act of moving from one place to another. We move in different ways between man-made borders, physical and ancestral spaces, and our memories.
Jurors Michelle Angela Ortiz and José Ortiz-Pagán invited artists to submit works of visual art that reflect the theme of migration.
Thirty-five artists working in sculpture, video, painting, photography, and collage address topics such as the Great Migration, the experience of Congolese immigrants in Philadelphia, the degradation of the natural world, and the migration of the Arctic tern, whose annual route is longer than that of any other bird. The spectrum of ideas and processes illustrates the intellectual rigor and creative diversity that characterize our city's art community.
Exhibition-related Events
June 4 | 12 - 3 pm | Opening Reception
June 14 | 7 pm | Zoom Gallery Talk: The Woodmere Annual | Click here to watch the recorded video.
Jurors
Michelle Angela Ortiz is a visual artist, muralist, community arts educator, and filmmaker who uses her art to represent people and communities whose histories are often lost or co-opted. Through community arts practices, painting, documentaries, and public art installations, she creates a safe space for dialogue around some of the most profound issues communities and individuals may face. Her work tells stories using richly crafted and emotive imagery to claim and transform spaces into a visual affirmation that reveals the strength and spirit of the community.
Over the past twenty years, Ortiz has designed and created more than fifty large-scale public works nationally and internationally. Since 2008, Ortiz has led art for social change public art projects in Costa Rica and Ecuador and as a cultural envoy through the US Embassy in Fiji, Mexico, Argentina, Spain, Venezuela, Honduras, and Cuba.
Ortiz is a 2021 Art Is Essential grantee, an Art for Justice Fund grantee, a Pew Fellow, a Robert Rauschenberg Foundation Artist as Activist Fellow, and a Kennedy Center Citizen Artist National Fellow. In 2016, she received the Americans for the Arts' Public Art Network Year in Review Award, which honors outstanding public art projects in the nation.
José Ortiz-Pagán is a multidisciplinary artist and cultural organizer. His practice focuses on local communities, negotiating their cultural presence in the context of the transitional and migratory. In his work, he uses rituals, games, gatherings, and objects as tools for discussion.
Ortiz-Pagán is the recipient of an Art Works grant from the Philadelphia Foundation and the Forman Arts Initiative, which recognizes the work of community-based artists. As a curator, he has been responsible for projects that include Portales (Portals), a survey of work of Samuel Lind that focuses on the juncture between the artist's spiritual framework and how it impacted the local culture of his community in Loíza, Puerto Rico.
Ortiz-Pagán's work has been featured in the Trienal Poli/gráfica in San Juan, Puerto Rico; the International Biennial Print Exhibit in Taiwan ROC, and the Bronx Latin American Art Biennial, among other exhibitions.
The Woodmere Annual In the News
Accepted Artists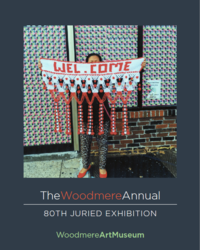 Read a conversation with jurors Michelle Angela Ortiz and José Ortiz-Pagán about the work in the 80th Juried Exhibition.
Upcoming Events
Thursday, 25 August 2022 00:00
View More