The Woodmere Annual: 81st Juried Exhibition
06/03/2023
08/27/2023
About the Exhibition
This annual exhibition presents the work of Philadelphia's contemporary artists. Each year, a different juror prepares a call for artists, soliciting submissions related to a distinct theme or idea. This year's juror, Doug Bucci, invited artists to submit work that explores novel and infinite ideas and methods of connection.
Fifty-four artists working in sculpture, painting, photography, jewelry, and printmaking address such varied subjects as climate change, materialism, ancestry, and biology, revealing connections on a microscopic to universal level. The spectrum of ideas and processes, including innovative uses of electroforming, computer-aided design, and 3-D printing, illustrates the intellectual rigor and creative diversity that characterize our city's art community.
Juror bio
Doug Bucci is an artist and educator in the field of jewelry who uses digital processes to explore and display biological systems and the effect of disease on the body. Computer-aided technologies enable him to view and simulate not only data, but also patterns and cell forms, which he transforms into meaningful, personal, and wearable art. Bucci views his digital process as one that allows for creative freedom unfound in traditional handmade methods.
Bucci's work is in the collections of the Windsor Castle, Berkshire, London; the Philadelphia Museum of Art; Pinakothek der Moderne, Munich; Newark Museum, New Jersey; Deutsche Goldschmiedehaus Hanau, Germany; Design Museo, Helsinki; and the State Hermitage Museum, St. Petersburg, Russia.
Bucci is also assistant professor and head of the Metals/Jewelry/CAD-CAM Program at Temple University's Tyler School of Art and Architecture in Philadelphia.
Accepted artists
| | | | | | |
| --- | --- | --- | --- | --- | --- |
| Jill Adler | Theophilus Annor | Martin Bernard Bernstein | Matthew Borgen | Frank Burd | Lauren Cassidy |
| Emily Cobb | Nick D'Angelo | Maxwell Davis | Christina Day | Brian Dennis | Sarah Detweiler |
| Steven Donegan | Paul DuSold | Charles Emlen | Iva Fabrikant | Katherine Fraser | Terri Fridkin |
| Kathryn Gegenheimer | Kathleen Greco | Michael Grothusen | Marguerita Hagan | Noa Hagiladi | Elizabeth Hamilton |
| Darla Jackson | Cavin Jones | Sarah Kaufman | Dawn Kramlich | Andrea Krupp | Diane Lachman |
| Vita Litvak | Michelle Marcuse | Caitlin McCormack | Michael McGeehan | Leah Modigliani | Keith Micheal Murphy |
| Liisa Nelson | Ju-hyung Park | Heather Raquel Phillips | Walter Plotnick | Deborah Riccardi | Matthew Speedy |
| C.J. Stahl | Gordon Stillman | Todd Stong | Brandon Aquino Straus | Patricia Sullivan | Rosalind Sutkowski |
| Blaise Tobia | Mat Tomeszko | Roberta Tucci | Peggy Washburn | Mallory Weston | John Y. Wind |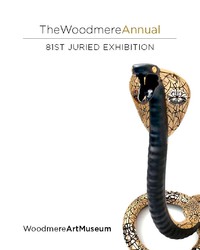 Read a conversation with juror Doug Bucci about the work in the 81st Juried Exhibition.
Upcoming Events
In the News
Purported Vermeer's Lady with a Guitar at Philadelphia Museum of Art, Be Holding world premiere performance at Girard College, Open Call for zines at Second State Press, plus more
05/31/2023
Artblog
Judith Joy Ross retrospective stops at its only U.S. venue, Mellon Foundation Grant for preservation of the Tanner house announced, Da Vinci Art Alliance opens two new shows in May, Woodmere 81st Annual juried exhibition, plus more
05/03/2023
Artblog