Dina Wind, Spring & Triangle
Credit Line
Woodmere Art Museum: Museum commission, 2016
Dimensions
360 x 272 x 155 in.
Dina Wind originally created Spring & Triangle to be 37" high. Her dream was to have her sculptures at a scale large enough to interact with the natural environment. The present sculpture was created K.C. Fabrications and brought to Woodmere in 2016. It stands at 30' tall, almost ten times its original size.
Wind considered herself an abstract expressionist. She started as a painter and switched in the early 70's to metal sculpture and considered her sculptures "drawings in space." Instead of paint and a brush, she would comb scrap metal and car part yards to find fenders, tires, exhaust pipes, mufflers, discarded tools, gears, and assorted items for her sculptures. These would be sawed and welded together into clusters and assemblages that create new spaces and ways of looking at the surrounding environment.
Dina Wind (1938-2014) was born in Haifa, in what was then British Mandate-Palestine (present-day Israel). After high school, she was drafted into the Israel Defense Forces, serving as a corporal during the 1956 Sinai campaign and handling confidential communications. Having earned her Bachelor of Arts from Hebrew University in Jerusalem, Israel, Wind came to the United States in 1963 and completed her Master of Arts at the University of Pennsylvania in 1975. In addition, she studied at the Barnes Foundation with sculptor Leon Sitarchuk (1922-1993), whose sculpture Pillar (c. 1978) is also on view on Woodmere's grounds.
Wind's work has been exhibited and collected widely, both nationally and internationally. She has had numerous solo exhibitions in Philadelphia and New York, and is currently represented by the Bridgette Mayer Gallery in Philadelphia.
Find out more about the sculpture's installation on Woodmere's grounds here.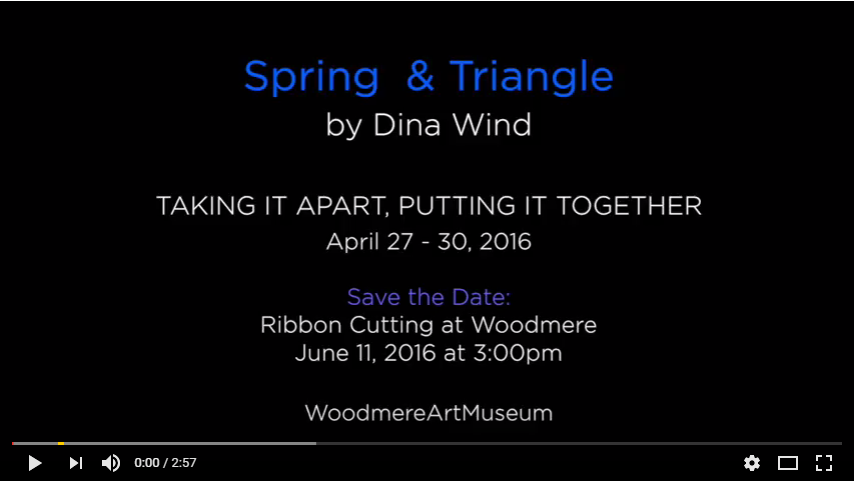 Stories Trigger
Blank field used to trigger form on artwork and artist pages. DO NOT EDIT